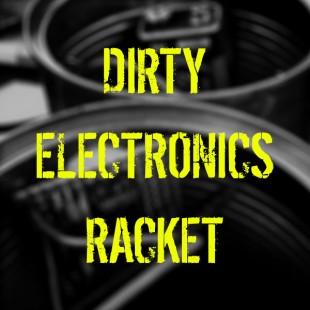 Dirty Electronics Racket Workshop, with John Richards & A.S.M.O. (9th June 2012)
Take part in a hands-on building session and rehearsal of pieces for the Dirty Electronics Racket!
Date: Saturday, 9th June 2012
Place: Noiseandroid shop, València.
Time: 5:00-9:00 pm
Admission fee: 30€
(*) After the workshop (10:30 pm), there will be a performance in dELUXE Pop Club. Free admission.

The Racket! is a DIY kit that introduces a number of key building blocks of analogue synthesiser design and Dirty Electronics aesthetics. It features an oscillator, wave shaping, noise generation, filtering, feedback and touch control. It is designed to be made on stripboard using wire connections as well as having a small copper etched artwork printed circuit board as a touch control. The Dirty Electronics Racket! epitomises a DIY spirit. Small thrifty synth, massive sound! Requires 9v battery and external amplification. No prior knowledge of electronics is needed.

The workshop concludes with a performance by Dirty Electronics and pieces for the Racket! For example, Hug is a piece for the Racket! and portable amps (Dirty 'Cardboard Box' Amp) that are worn by performers. A cacophony of noise is created. Other performers stop/mute the 'racket' by hugging their noisy friends.
Note: You can only be sure of a place in the workshop after ordering in this site or contacting noiseandroid@noiseandroid.com. Participants where possible should bring a battery powered amp/speaker
John Richards
John Richards' (1966) work explores performing with self-made instruments and the creation of interactive environments. He has worked with many leading improvisers and musicians in the field of live electronics, and is a founder member of electro-noise improvisers kREEPA, the post-punk group Sand (Soul Jazz Records), and the composers' collective nerve8: an experimental electroacoustic diffusion group. Recent concerts have included performances at IRCAM (Paris), Fylkingen (Sweden), the Bent Festival (Los Angeles), PinPanPun (Valencia), Sonar (Barcelona), and the Purcell Room, Southbank Centre (London).
ASMO
(Anti Social Musik Order) is the 'circuit bending' project of artist and musician Stu Smith. He works with self made instruments custom built from the modified circuits of electronic toys, keyboards and other discarded gadgets. His work explores the sonic landscape of 'circuit bent' instruments and their integration into existing modular synthesizer systems. He writes and performs with the groups Threep and The Buoys and has performed at concerts and festivals across the UK, Europe and New York.
In the same category