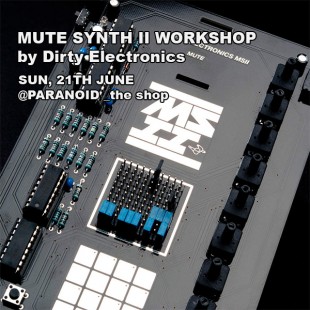 Dirty Electronics Mute Synth II Workshop (21th June 2015)
Take part in a hands-on building session and rehearsal of pieces for the Mute Synth II
Date: Sunday, 21th June 2015
Place: Paranoid _the shop, València.
Time: 4:30-8:00 pm
Admission fee: 50€
(*) After the workshop, there will be a performance in the shop. Free admission.

The Mute Synth II (MSII) pushes through a pick-up-and-play approach. It is born out of Dirty Electronics' ongoing commitment to DIY and noise aesthetics, and serves as a catalyst for experimenting with electronic sound. At the core of the instrument is a versatile mini patchbay that provides expansion and modification permutations and a grid-like visual representation of patched parameters using coloured jumpers. The patchbay encourages a particular interaction with the instrument and playfulness. The printed circuit board artwork has multiple touch electrodes in the form of small squares that provide a labyrinth of possible connections and resulting behaviors. Different rhythmic sequences are created through hybrid 4-bit binary coding, feedback loops and bit bashing. The MSII was released on Mute Records along with an album with tracks by Chris Carter (Throbbing Gristle / Carter Tutti Void), Simon Fisher Turner, Dominic Butler (Bronze Teeth / Factory Floor), Kidkanevil, and Dirty Electronics et al.
A special yellow limited edition will be made for Spain 2015 (the MSII is currently only available for purchase through Mute Records).
The workshop concludes with a performance by Dirty Electronics
Note: You can only be sure of a place in the workshop after ordering in this site or contacting noiseandroid@noiseandroid.com. Participants should bring a 9V battery.
John Richards
John Richards' (1966) work explores performing with self-made instruments and the creation of interactive environments. He has worked with many leading improvisers and musicians in the field of live electronics, and is a founder member of electro-noise improvisers kREEPA, the post-punk group Sand (Soul Jazz Records), and the composers' collective nerve8: an experimental electroacoustic diffusion group. Recent concerts have included performances at IRCAM (Paris), Fylkingen (Sweden), the Bent Festival (Los Angeles), PinPanPun (Valencia), Sonar (Barcelona), and the Purcell Room, Southbank Centre (London).
ASMO
(Anti Social Musik Order) is the 'circuit bending' project of artist and musician Stu Smith. He works with self made instruments custom built from the modified circuits of electronic toys, keyboards and other discarded gadgets. His work explores the sonic landscape of 'circuit bent' instruments and their integration into existing modular synthesizer systems. He writes and performs with the groups Threep and The Buoys and has performed at concerts and festivals across the UK, Europe and New York.
In the same category