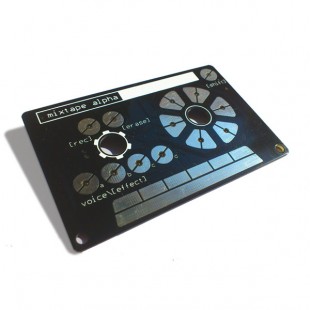 Mixtape Alpha
Making a mixtape was never this much fun!
Price lowered!
39,00 € VAT incl.

45,00 € VAT incl.
Developed by Open Music Labs in collaboration with Jie Qi, Mixtape Alpha is a small 8bit touch synthesizer. It has a stylophone style input for continuous note generation, and 6 buttons for discrete notes. With 4 voices, 4 effects, and 5 note polyphony there is quite a range of expression. But, the best part is, you can record the songs you make, and trade mixtapes with your friends! Perhaps even better, it's based on the ATmega328p, and can be hacked to make new crazy sounds.
If you want to dig into the guts of this 8-bit synth, check out the wiki page. There you will find all the schematics and code, and we even have a Pure Data patch for making your own wavetables. Mixtape Alpha even comes in its own cassette case, with instructions!