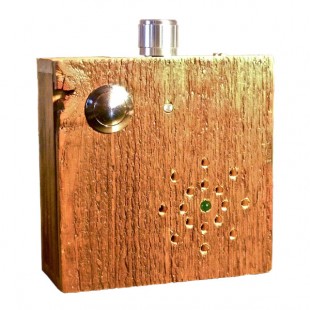 Beep-It Deluxe
Beep-it Deluxe is an optical theremin, housed in a handsome wook case and featuring a big chrome button and 2nd oscillator for enhanced modulation.
Beep-it Deluxe emits a square-wave tone reminiscent of 8-bit video game music. A light sensor determines the overall pitch of the instrument, while a knob on the side can be adjusted to induce an oscillating warble into the tone for all of your sci-fi and rhythmic needs.
Like the original Beep-It, you control the pitch by casting shadows over the light sensor or pointing the sensor towards/away from a light source, or using a pulsing light like a bicycle flasher or a strobe light to produce very interesting effects. Beep-it Deluxe can emit very high, wiggly pitches or very deep bass pulses reminiscent of deep house and techno music.
The new Beep-it Deluxes will be housed in a handsome handmade wood case, from recycled wood that's around 100 years old, from demolished buildings in Chicago.
There is an 1/4" output jack for connecting to audio equipment like amplifiers, guitar pedals, recording, etc.