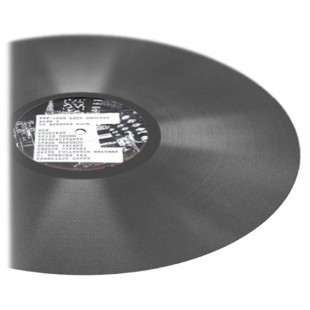 RRR-1000 Lock Grooves
With a unique hand made cover for each copy, RRR-1000 Lock Grooves contains thousand endless 1.8 seconds loops, created by 20 different artists.
RRRecords is an underground noise music label run by the legendary Ron Lessard. S

ince the early 80s has a long standing tradition when dealing with lock grooves. In 1993 RRR-100 was his 100th release and he wanted to do something special, and masterized by

Paul Brekus, RRR-100 was released with 100 lock grooves.

Later,

the mother plates for the RRR-100 were lost, and

Paul proposed Ron to do a new lock grooves vinyl: 250 for each side, and in 1998

RRR-500 was born.
10 years later, Paul proposed again the challenge of making an album with 1000 lock grooves, that would released in 2009 with loops created by 20 artists.
It was not thr 1000th release of RRRecords, but it was close. Each copy has unique custom artwork (reused sleeves with cuttings pasted/duct taped on).
You will find this note inside:
"This is a 1000 lock-groove LP, 500 per side - while I was listening to it at home, I noticed some of the grooves were untrackable, the needle would jump to the next groove - I don't know if this is from the mastering, the pressing, or the turntable sensitivity but I certainly hope you don't encounter this same problem - if this copy should track only 990 lock-grooves, then please accept my apologies for the inconvenience
BEST - Ron"
Artists list: AMK, Aaron Dilloway, Thomas Dimuzio, Kevin Drumm, carlos Giffoni, Incapacitants, GX Jupitter-Larsen, Jason Lescalleet, Francisco Lopez, Lasse Marhaug, The New Blockaders, Jerome Noetinger, Prurient, RLW, Damion Romero, Runzelstirn & Gurgelstock, Sudden Infant, Keith Fullerton Whitman, C.Spencer Yeh, Otomo Yoshihide
In the same category