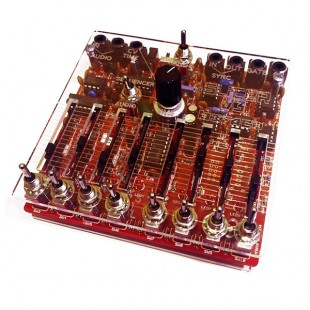 Befaco Slicer v3.1
The Befaco Slicer v3.1 is a simple 8 step analog sequencer with Gate and CV outputs; it can also chop any audio signal into little pieces!

Made in Barcelona by Befaco, it's available as a pre-assembled unit or DIY kit.

Features:
-Sync In and Out, to hook up with other Slicers, or any other (semi)(modular) analog gear.
-Independent CV and Gate outputs.
-8 steps, 3 positions each: Long, Mute, Short.
-Range of about 4 octaves per step.
-Rate control
-Works with USB (AC adaptor and cable included)
-About the size of a CD case!
In the same category