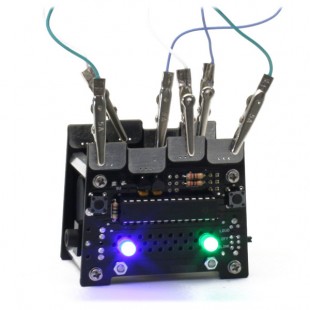 Bit Blob Jr
Discover the digital chaos in this tiny package, exploring a huge range of evolving drones and noise loops.
Price lowered!
70,00 € VAT incl.

75,00 € VAT incl.
Designed by BleepLabs and The Loud Objects (Tristan Perich and Kunal Gubta), the little Bit Blob Jr is a digital noise maker that's controlled by connecting its contacts together, allowing you to bend your way through unlimited sonic madness.
Based in the original Bit Blob, made as limited run of 30 units in 2008, this little version has a complete rewritten code, and still works by connecting pins together, but the sound is more droney with some melodic elements. It has been designed with dedicated pins for output and LEDs and it have pulse width control.
It has been programmed with AVR-C as open-source project, so you can see all the info, schematics and code. Of course, if you like to smell solder it's also available as DIY kit.

It has internal speaker and 1/8″ output jack, and it work with a 9V battery (not included). In the video you can see both versions "Bit Blob 2" and "Bit Blob Jr" wich make the same crazy noises: